Starting Kendo
If you're interested in kendo, we hope you'll visit. All prospective students are required to watch at least two complete practices prior to joining our dojo. We feel this is the best way for a prospective member to understand what kendo is like before they make the commitment to join. Dojo members are available before or after practice to answer any questions you may have.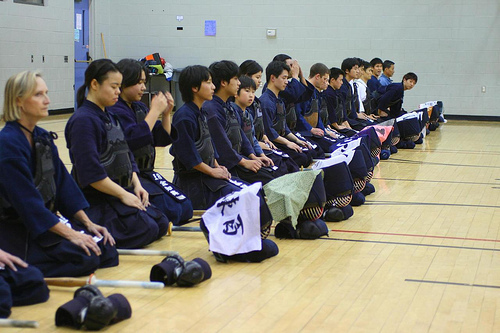 ---
Membership
Adult:
$330 per year
Full-time Student (18+)
$300 per year
Under 18
$290 per year
---
Berkeley kendo offers a family discount. For additional adult family members the yearly cost is $225. For additional family members under 18, the yearly cost is $175.
These fees include required registration and insurance for AUSKF (All-U.S. Kendo Federation) and NCKF (Northern California Kendo Federation).
If this is your first time registering with AUSKF, there is an additional $10 initiation fee.
Berkeley Kendo Dojo is a non-profit organization (ID# 27-0958325) and fees are charged in order to cover our expenses. All instructors are volunteers who donate their time.
Please note: All fees are non-refundable and must be paid before a student starts.
---
Frequently Asked Questions
Kendo is a full-contact martial art that requires the use of bogu (protective armor) to prevent injury. While all you need initially are loose, comfortable clothing, a shinai (bamboo sword – available from the dojo for $20), and a shinai bag (available from the dojo for $10), you will eventually need to purchase a uniform (gi and hakama) and bogu. We realize this can be a significant investment (uniform sets range from ~$60 and up; bogu sets range from ~$300 and up). If you have concerns about equipment costs please feel free to discuss this with us. For a list of kendo equipment suppliers, please see the
RESOURCES
section of this website.
All Berkeley Kendo Dojo members and all visitors must be fully vaccinated and wear a mask at all times before, during, and after practice. See definition of "fully vaccinated"
here
. A photo or scan of a vaccination card must be provided in advance. Booster shots are highly recommended, but not required. Everyone must provide us with up to date contact information.
If you have any medical issues please first consult your physician before joining, and please let us know of any health issues.


Kendo can be for any age group, but children are encouraged to wait until age seven. We have welcomed beginners who were seventy years old, too.


All members at Berkeley Kendo Dojo practice together. One of the things many of us enjoy most about kendo is the opportunity to practice with people of all ages. Parents and children often make kendo a family experience by joining the dojo together.


We welcome those who have previously practiced at other dojos, including dojos in other countries. If you have a kendo ranking and wish to join our dojo, please provide us with a copy of your menjo (rank certificate) so we can register you at the appropriate rank.


Members of the Berkeley Kendo Dojo who are experienced and wearing bogu are welcome to practice at our sister dojos in Oakland, Alameda, Concord, and Stockton. As a member of the Northern California Kendo Federation (NCKF), Berkeley Kendo Dojo members may also practice at other NCKF dojos in Northern California. Please let the Berkeley instructors know when you plan to visit another dojo for the first time.


If you are a kendo practitioner from a non-NCKF dojo and would like to visit and practice with us, please email us in advance at berkeleykendo@gmail.com or through our
contact
form.